To Enhance Your Business In The Right Direction, Holographic Boxes Are The Right Choice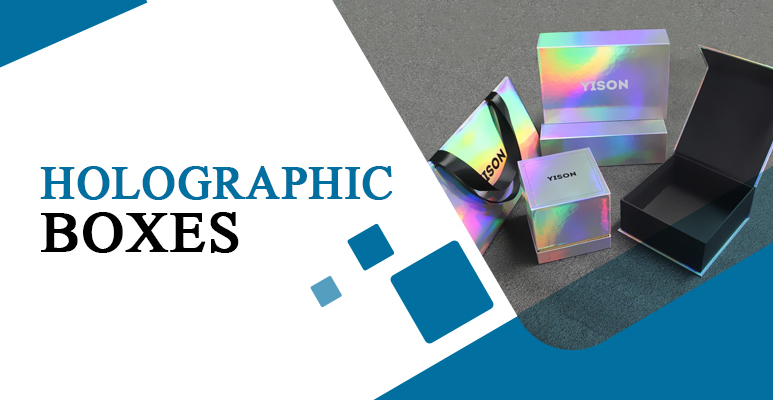 Holographic boxes are made of holographic material (Oriented Polypropylene and Polyester). Micro embossing mixes different images into a pattern. It converts normal light into stunning colors. That is why most companies prefer it to other materials. It does not matter at all what you are selling. This packaging is perfect for all. It acts as the brand ambassador for that specific product. A holographic box is 100% recyclable and biodegradable. It means that you can reuse, recycle and reduce this material quickly. We have a long list of the benefits of holographic packaging. However, we shall mention only a few of the best things about these boxes.
Freedom of Selecting the Material of Your Choice:
Using holographic boxes USA provides several benefits. It takes your business in the right direction. They are suitable for your brand's integrity and image. You can choose the materials for your boxes as per your choice. Kraft, corrugated, cardboard, fiberboard, and ivory sheet are some of the most commonly used options. You can choose the weight and durability of your boxes by choosing the materials you use to make them. You can decide how good your boxes are and how much they can hold. Choose materials that support high-quality printing for better-printed graphics. It can also improve your holographic boxes packaging appearance and make it attractive. You can give a finished look to the ordinary boxes by using the holographic sheet. Moreover, if you give the boxes as a gift, you can add a glass window, ribbons, and other decorations.
Captivating and Appealing Packaging
Packaging designers face many challenges in designing. It is tricky to create such packaging boxes that attract more customers and keep the product safe. For this reason, they can do everything they should do. Because of this, most designers prefer holographic boxes. These boxes are more appealing and grab the buyer's eyes. Moreover, they safely reach the product to the customer's hands from the manufacturing unit. The boxes have a shimmery appearance because of the polygraph sheets. These aesthetic containers will help your products stand out in the crowd. Most products that come in such packaging look modern because they look like they were made just for them. These kinds of containers can hold many different things.
An Excellent Tool for Brand Building and Marketing
You can use the space on your packaging box to get your name and promote your business. Many well-known companies use this method to boost sales. You can ask the people who make your holographic boxes to print anything you want on the empty spots, like your company logo, a particular sales message, a tagline, or instructions about the product. Customers will feel special and care about your product if the packaging is well done. Product packaging is essential for making and keeping a brand's value high. Holographic packages looks good and brings in more customers, making the brand more valuable.
Customized Holographic Box Shapes
There is, in fact, a standard set for packaging shapes and sizes. In today's world, most boxes are available in rectangles or other conventional shapes. However, you can go for customized holographic Packaging. You do not have to follow the design and shape limitations. Instead, let your imagination run wild. Design unique, fascinating, and mesmerizing boxes for your products. You can even select the layout of the logo and printing that complements them best. Holographic boxes packaging help skyrocket your product's sales and help your business grow.
Better and More Durable Packaging
The holographic box Packaging is both trustworthy and robust. It cannot be ruined by water or heat. The product packed inside the box stays in the same shape for a long time. However, this style of Packaging is also great for shipping and moving. You can ship things in them without spending extra money on rigid boxes. It looks much better than other boxes. Designers use holograms as logos, seals, and labels on many pharmaceutical brands to stop copying them. These designs are easy for customers to recognize but hard for competitors to copy.
Conclusion
Holographic boxes are in high demand on the market for their distinctive features. It is hard to find many features in one Packaging. The bright and beautiful aluminum box gives the product a new look. People are drawn to uniquely packed products. Therefore, those products can survive in the ever-changing marketing trends. Brands that do not pay attention to their Packaging will never grow in the end. Additionally, the custom printed holographic boxes makes it hard to copy the product. Customers can quickly tell what it is, but competitors will never copy it easily.
Premier Custom Boxes is turning possibilities into chances. Here you can find the best packaging solutions for our valuable clients. We are a well-known packaging company around the market. Are you on the lookout for affordable and reliable holographic packaging boxes? We do our best to satisfy your needs and requirements. Our clients' success and satisfaction are our prime concerns.