How You Can Good Amount Of Customers Through Elegant Retail Packaging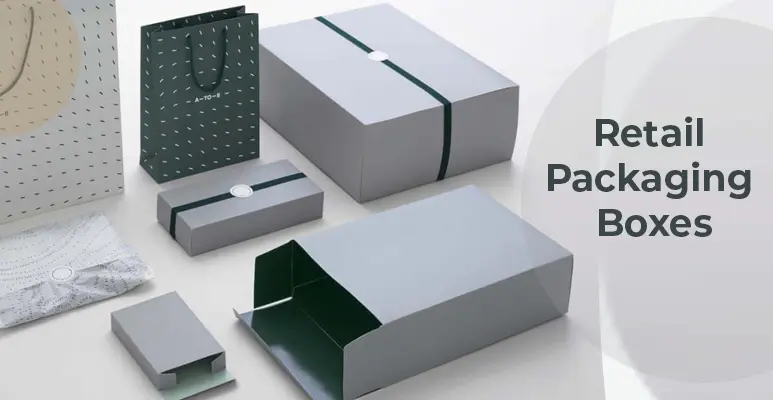 In the ever-expanding world of retail, it's becoming more crucial for firms to distinguish themselves through packaging. Because of the rise of digital commerce, buyer tastes and habits have also changed. They don't want anything less than perfection from the businesses and products they buy. You can only impress people with your goods or services if they are unique and better than the competition. However, creating retail packaging that stands out is no simple task. If you're seeking ways to spruce up your package bundles, you've come to the perfect spot.
Retail Packaging Should Be Attractive and Sturdy
Buyers expect high-quality retail boxes for beauty products like body lotion, clothes like dress shirts, and accessories like watches. They quickly form an opinion about a product based on its packaging. Damaged, scratched, or low-quality boxes will make your business look bad. So be careful when picking the stock and finishing options. Further, think about how thick, flexible, and long-lasting the printing materials you pick are. If you want to learn more about printing, you should ask the printer for help. The packaging boxes must also be strong enough to withstand harsh conditions like high temperatures, humidity, bacteria, and shock. Your retail packaging should tell customers that your brand and products are reliable.
A Unique Box Closure
You need a good product in this tough market to get people to buy from you. But that's not enough if the packaging is hard to open or doesn't look good. One thing that makes good product packaging is having the right closures. How well your customers can open your packaging is also a factor in how it closes. It should be both new and easy to use. A unique closure is a great way to get customers to think outside the box. Closures make it easy to open packaging, and graphics attract customers. Together, they make your product more user-friendly and visible. For example, you may have custom retail packaging that closes with magnets or a ribbon.
Communicative Packaging
Every other company wants to earn more and more customers to expand their business. They use every possible tactic to do so. One of the most effective ways of increasing customer loyalty is to have elegant and useful packaging. Using creative packaging can help keep customers coming back to your store. You don't have to use the same clever marketing tactics as your competitors, who all say they are the best and most unique. Stick to the facts and make the most of how you package things. Let's say that your retail brand won a quality award. Then you should put that information in a visible place on the custom-printed retail packaging. Use marketing strategies that are distinct from the norm. If you advertise your products in conventional media, customers will be less likely to buy from you.
Put Details on the Retail Packaging
When there is more information on the packaging, it helps people decide what to buy. When products' retail boxes wholesale have basic and advanced instructions for how to use them, people are more likely to trust the brand. If you want people to buy your product, the packaging should tell them everything they need to know. Buyers must know what's in a product, how much it weighs when it goes bad, and how to store it. This will not only build your credibility with the customers. But it will also show customers that you care about making their buying experience a good one.
Novelties at Retail Packaging Surface
People have one of the sharpest and most sensitive senses of touch among animals. Studies show that our eyesight is vital to survival, but we shouldn't forget about our sense of touch. The sense of touch is also essential in every retail business. Every time someone buys something, they quickly look at the outside and feel the box. How easy is it to use? Does it cling? So, what happens if you quickly clean it? Getting in touch with the feeling is not some vague idea. Modern box designs often use embossing and de-bossing or many foils and layers. These designs on the surface of retail packaging make them more pleasant to touch. The use of embossing is also a sign of high-end packaging.
Sustainable Options for Products
Packaging good for the environment is vital to companies and customers. For instance, McDonald's says that by 2025, all of its packaging will be degradable or recyclable. Businesses are becoming more ethical and good for the environment due to the millennial generation. Companies must now use eco-friendly packaging, which is no longer just a marketing trend. For this reason, you must use retail packaging wholesale that is easy to recycle and break down. Recycling these boxes makes it easy for ecosystems and marine life to stay safe.
More and more shops around the world prefer packages made of Kraft paper. Using Kraft paper to print your product packaging is a simple way to help make the world cleaner and safer. For example, a business that sells organic goods should use Kraft's custom retail boxes as a smart way to market itself. The packaging needs to look good to bring in more customers. You can also ask the printer to give you a rundown of how they print Kraft boxes.
Keep in mind that you don't have to take all of the above ideas. You can pick something small to focus on. For example, redesign the box, place an order for new boxes, and watch what happens. A little rebranding may do wonders for the visual appeal of your product's retail packaging. Add attractive designs as embossing or simpler to print vital details. However, you must ensure that the quality of the box is never compromised.