What Are The Best Christmas Gift Boxes Out There?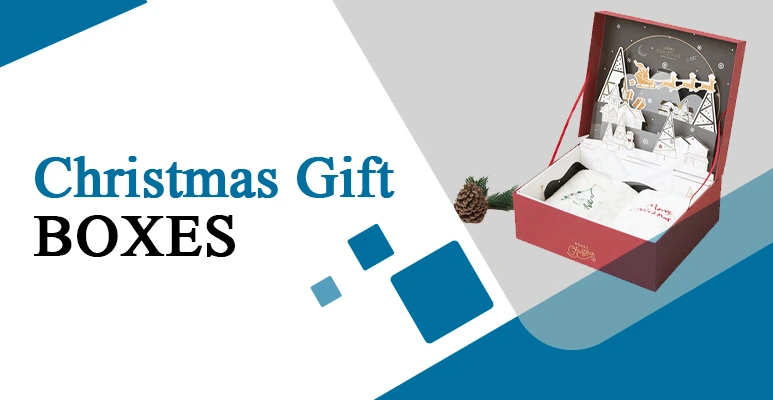 Giving gifts to those you care about on special occasions is something that has long been recognized as a must by cultures all around the world. Retail businesses can make gift boxes by putting ribbons, bright colors, and other decorations on them. Putting the item in a custom gift box makes it look more expensive and makes shoppers think it is worth more.
Many customers think that exchanging gifts is one of the most important parts of making holidays like Christmas truly memorable. Without custom gift boxes, it would be impossible to keep up this old tradition. You can make your gifts stand out from the rest by adding things like high-quality printing and other such things. These boxes are a great way to make a big impression on the person you're giving to.
Dazzling Die-Cut and Windowed Gift Boxes
Printed gift boxes have made it possible for retail businesses to use packaging with windows on Crit. Customers can see what they are buying before they open the package, which makes the package more appealing overall. With the help of a display front window on a perfume bottle or other high-value item, you can make an attractive display.
Die-cut packaging has strong walls made of cardboard that protect the items inside from damage. Die-cut boxes can be changed so that they fit the design and requirements of the product. Custom inserts can give you more padding and give off a high-end vibe. Because of this, these gift boxes will be able to keep your products from getting damaged in the event of a collision while they are being shipped.
Custom Designed Eye-Catching Packaging
The companies that make things can ask the gift box packaging companies for help if they want to improve how the boxes are displayed and make them look more appealing. The versatile packaging design of the gift packaging gives it an air of sophistication.
Customers put valuable things in the packaging so that they can give them to their loved ones as gifts at important events like Christmas. Giving and receiving gifts is another important way gift boxes are used. They make the buyers who are going to get gifts excited right away by giving hints that the things in the packages are good gifts. Putting cute stickers on the boxes and printing personalized graphics is a simple way to make shopping more fun for customers. You can also make them look like gifts by wrapping them in ribbons and adding other kinds of decorations.
Unique Printed and Formatted Boxes
The gift boxes can be customized, and companies can order them in any shape or size they desire, based on the particulars of their packaging needs. You can experiment with each of the numerous printing and styling options available for a gift box. It is necessary to brand these boxes by a certain subject.
Refreshing the overall appearance of the gift packaging can be accomplished by using silver or gold foil, in conjunction with the appropriate finishing. You also have the option of selecting a matte, gloss, or spot UV treatment to give the product a more upscale appearance. A completed product with these various finishing options will have an expert appearance. Other common techniques to decorate your present package and make it stand out from the crowd include printing with raised ink or embossing a company logo.
Eco-Friendly Gift Boxes
Use a box that can be designed to meet the criteria for being green and sustainable. This will make your customers feel like they are getting a good deal and show that your company cares about the environment. The printing process used on the packaging doesn't change the fact that the gift box packaging can be recycled.
Gift custom boxes that are good for the environment are the most popular choice for buyers, whether they are celebrating a retail business milestone, giving gifts to friends and family, or welcoming new employees. The person who gets the product as a gift will keep and reuse the packaging for a long time. This will help your business reach new groups of potential customers.
Product Safety with Foldable Gift Box
A rigid gift box can make the package look nice and make it very strong. However, it can be hard to ship because of its large size. Smart customers who make paper boxes will try to come up with custom gift boxes that can be folded. When it's folded, it will be easy to carry, and when it's stuck to the shape you want, it will be as strong as a rigid gift box.
When thinking about the pros of gift custom boxes, one of the most important things to think about is how easy it is to open and close the boxes. This makes it much easier to put things away in the right way and eliminates the chance of anything shifting.
Things can be hard to store in a small closet, which can affect the quality of the item in the long run. Because of this, we can use gift boxes wholesale and stack them one on top of the other. With this plan, we'll be able to keep the items in order, and the solid box layer will keep the goods inside from getting damaged in any way.
When you use stylish and expensive gift boxes at important events like Christmas, it's easy to make an impression that will last. Companies can make them more unique by adding ribbons, bright colors, and a variety of other decorations.
There's no denying the positive effects of gift-giving on relationships and the creation of cherished memories. If the goods are put in a custom gift box, they will look more expensive and be worth more on the surface. Customers always like it when a gift has a little more color to it.
Therefore, giving a present to a person you care about is a great way to express your emotions. As a result, exchanging presents is a fundamental part of the Christmas event. There's no denying the positive effects of gift-giving on relationships and the creation of cherished memories. If the goods are put in printed gift boxes, they will look more expensive and be worth more on the surface. Customers always like it when a gift has a little more color to it.