How Custom Retail Boxes Take Attention Of Customers?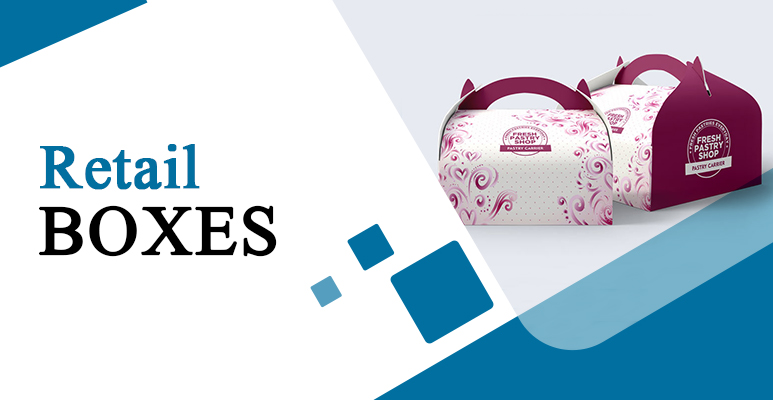 Whether it's your favorite grocery store, the accessory shop you've been going to for years, or a brand of clothes you love, stores are trying to do more to keep customers coming back.
Retailers who know the power of custom retail boxes packaging, use it to their advantage to make their goods more appealing to people who might buy them. Packaging can help you build trust in your retail business. This will go a long way toward giving you a strong position in the market.
Your business and what you sell should be reflected in the custom retail boxes you make. Use personalized packaging to help people remember your brand. Have you been underestimating the value of customized packages? If yes, then it's time to see what they can do and use them to get more customers and sell more.
Interesting Packaging of a Product Grabs the Attention of Customers
The art on boxes for things sold in stores should be interesting. Customers will likely get an idea of what the product is about from how it looks. Shoppers will be more likely to try something if it comes in an interactive package.
They will be interested in finding out how the product is available and other information that comes in a beautiful box.
On the custom retail boxes, there should be important and necessary information about the ingredients or parts of an item, how to use it properly, and the date it was made or should be used. Many products need instructions on how to store them and warnings, especially if they could have side effects.
All of these things should be on retail packaging to help customers. Customers will stick with your brand if the boxes you sell make it easy for them to choose an item and eat it quickly.
You can make a list of customers' most common questions and concerns and answer them on the packaging. This way, shoppers won't feel confused when trying to choose a product.
The Packaging of an Item Should Help Customers to Judge it Better
Instead of trying to sell and market your retail items pushily, use the custom boxes to help people make an informed choice. Don't use marketing slang or phrases. You don't have to use packaging as a way to market.
Instead, use it to help customers without making it obvious that you're trying to sell something. On the boxes, the most interesting parts and benefits of any such item should be written about without any exaggeration.
If the retail product is a lot better in how it is made or in some other way, it should be made clear on the packaging so buyers can compare and judge the different products.
Retail Packaging Tells You About the Brand
Customers are very careful about which retail brand to buy and what it offers. Before they buy from a business, they like to know its core values, vision, and mission.
By writing on custom retail boxes, you can tell potential buyers about your brand's approach, strategy, and best practices.
For example, if you run a business that sells chemical-free products that are good for the environment, you can promote this on the packaging. Biodegradable Kraft paper boxes can be accessible to encourage your organic products.
In the same way, you can use packaging to support the customer service practices of your brand.
Boxes for Retail Items With Information About How to Contact
When different stores go out of their way to reach out to customers, they win their loyalty. You can put information about how to reach you via email, phone, or social media on the packaging so shoppers can get in touch with you that way.
You can quickly get feedback on all your products and improve them based on what customers say. It will make people who don't usually buy that brand a fan of it. Make sure the contact information on the boxes is correct.
If you take days to respond to a comment on Facebook or another platform, you shouldn't put the address of those pages on the custom retail boxes packaging.
Retail Packaging With a Plan Will Help You Sell More
Customers will like to like and buy a product if it comes in a box they can use. The best thing to do would be to focus on making the packaging meaningful. You can put facts about the industry on the boxes and use them to get people excited about a new product that just came out.
Use the packaging as a casual way to tell shoppers about interesting things. You don't have to use the standard text on the boxes to market your retail items.
Instead, make it worthwhile for customers to take action by filling out the custom retail boxes. Creating attractive retail packaging will help you meet your sales goals.
Boxes For Goods That Are Easy To Carry Around During Shipping
People like to store and carry many things they buy in their packaging. For example, highlighters, lipsticks, and other makeup products should be stored in original boxes to maintain quality and feel.
When you print the boxes for your products, you should choose a style that makes it easy for people to take something out. You can carry it with them, and put it back. Giving buyers packaging that makes it easy for them to use your product will help them remember your brand and products.
In conclusion, retail packaging is a tool or medium available in many ways to improve your brand and reach more customers. Cute signature packaging is a great way to connect with old/new customers and build strong trust.
Boxes for retail with interesting designs and text are likely to stick in their minds forever. Packaging can simply give you an edge over your tough competitors. This is important if you want to build a powerful and unique brand name. Your small or new store can become the talk of the town if people are impressed by your custom retail boxes.